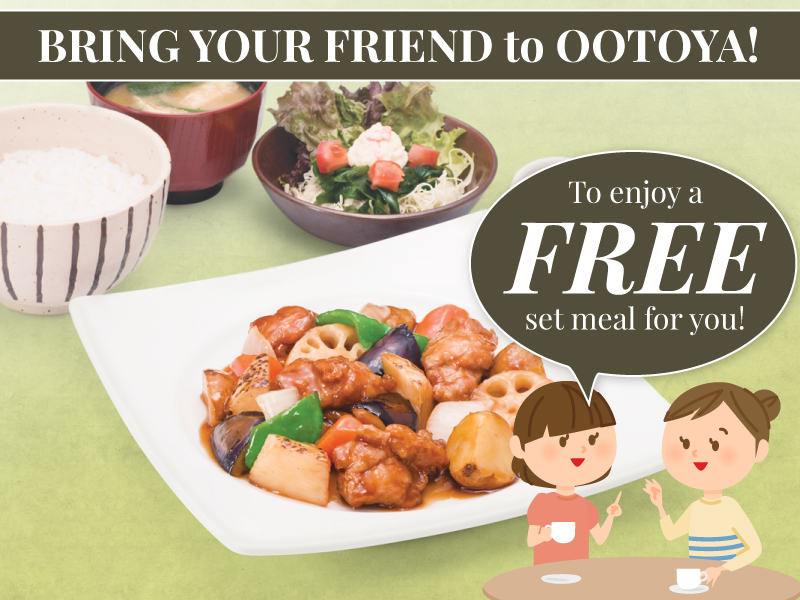 Hey did you know Ootoya is having this brilliant deal for their member?
No?
Then I bet that free caught your attention right! Well for me that would be the case too! ( ͡° ͜ʖ ͡°)
Want to know more about it then you should read on!
Don't forget to collect your points too!
BRING YOUR FRIENDS PROMOTION!
• Bring 1 friend - FREE DESSERT!!!
• Bring 2 or more friends - FREE SET MEAL!!!
From today onwards, bring your friend who is not an Ootoya member to Ootoya and have her sign up as one. Then both of you can enjoy FREE dessert bowl from Ootoya!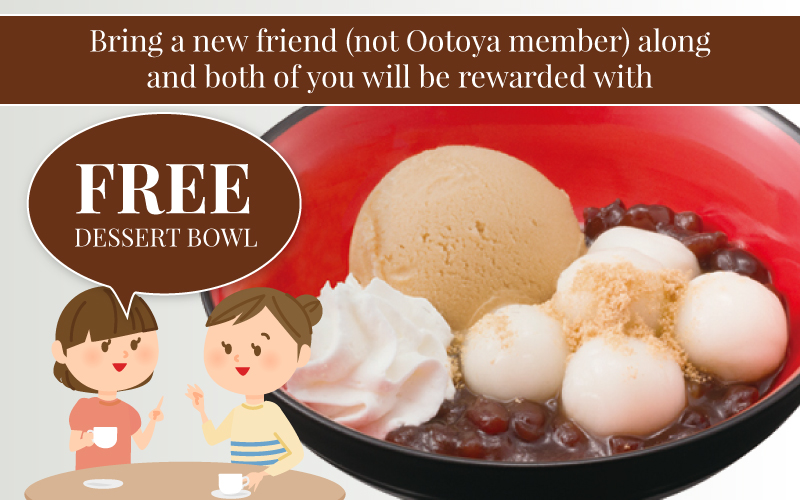 *Image for illustrative purposes only. Actual product might differ.
*Valid when the friend is not an Ootoya member and a newly register Ootoya member on the spot.

That is not all, if you bring 2 friends with you and have them registered as a new Ootoya member. You will be able to enjoy FREE set meal and your friends will get FREE ice cream!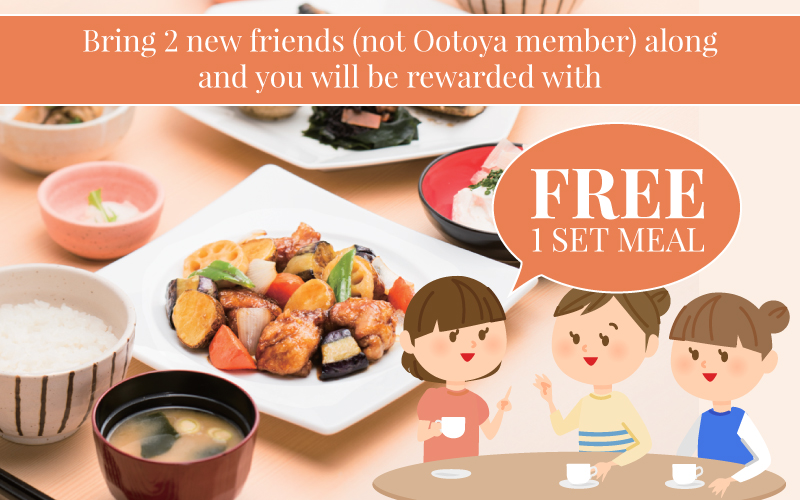 *Image for illustrative purposes only. Actual product might differ.
*Valid when the friend is not an Ootoya member and a newly register Ootoya member on the spot.
*Free set meal is valid for the Ootoya member only. For newly register Ootoya member they will get free dessert.

So what are you waiting for? Get your friends down to Ootoya and enjoy this deal!
Don't know what is Ootoya about? Read on to know! ( ´ ▽ ` )ノ
What we expect when we are dining out? Generally, we crave for delicious food that taste better than homemade food. Hence few restaurants may add some ingredients which are not good for your health, for example too much MSG, oil or salt.
However, there's a single Japanese restaurant which serves a good, well balanced meal without excess seasoning but still taste delicious! The restaurant's name is Ootoya, originated in Tokyo since 1958.
It's widely known as the restaurant which serves meal like mother's homemade food.
---
Ootoya and What's on the menu
Ootoya still spreads affordable and nutritious foods to many cities all over Asia. They prepare Teishoku, which is a set meal with a main dish, miso soup and pickles.
Furthermore, Ootoya also serves proper meal Chanto Gohan (ちゃんとごはん). This literally means proper meal in English. The meal is a well-balanced diet that we are supposed to eat every single day.
The food made by your mom is most likely your favourite dish on Earth. And you can find it in Ootoya!
Ootoya's meals basically sums up of all a Japanese Mother's meticulous efforts in preparing a nutritious, well-balanced meal for her family. Mothers are always considerate with our health and well-being. That is what inspires Ootoya in serving the customers.
---
Eating is a Positive Thing
The restaurant believes that you are what you eat. All of us should eat healthy, in order to be happy.
However, Ootoya wants to educate the customers that healthy food doesn't necessary always mean eating only salad. More often than not, we are skipping meals and avoiding salt, sugar and fat. But this perspective has made eating as a negative thing.
Ootoya has 60 years of knowledge about how we supposed to eat and encourages us to understand Shokuiku Philosophy (食卓哲学).
Every ingredient can complement each other, for instance, the ginger in a pork dish aids absorption of the nutrients from the pork!

In fact, Ootoya regularly holds seminars about nutrition or food education in Japan to teach participants to achieve healthy life through their diet.
---
When we understand the nutritions of the food we eat, we can make better decisions on what we eat.
---
Ootoya Overseas
Ootoya has a strong presence in Southeast Asia. Other than Singapore, they have branches in Indonesia, Taiwan and Thailand. Apart from location, Ootoya can retain the same taste as in Japan as they use the same delicious sauce made in Japan!
What are you waiting for? Let's appreciate things in life by eating healthy food in Ootoya.
---
Try out Teishoku at Ootoya now!
Collect Points & Enjoy Rewards with Ootoya too~
100pts - 15% OFF every Monday to Thursday
200pts - 30% OFF everyday
& 2X J Points every 10th of the month!
Not valid with current in-store discounts or promotions and coupons.
We are looking forward to seeing you more!
---
Changi City Point
5 Changi Business Park Central 1 #01-30/31 Singapore 486038
Tel: (+65) 6636 1228

Clementi Mall
3155 Commonwealth Ave West #03-53 Singapore 129588
Tel: (+65) 6659 2644

Orchard Central
181 Orchard Road #08-012 (Verandah) Singapore 238896
Tel: (+65) 6884 8901


See you at OOTOYA!